Versatile Ines furniture – just right for a boy's or girl's room
2022-08-01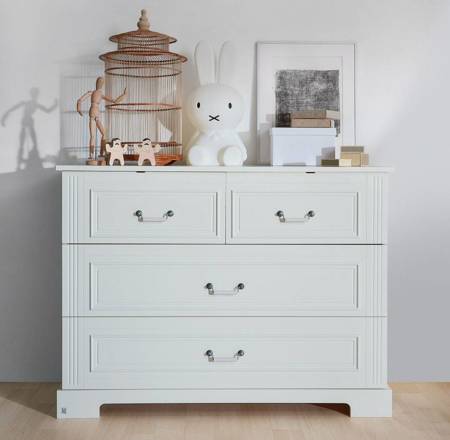 Wondering how to furnish your child's room in such a way that it will last as long as possible? When furnishing your child's room, it is worth considering both functionality and aesthetics. While the colourful, fairy-tale design will work great for a toddler, an older child may have some reservations about it. Given how quickly children grow and how often their tastes change, it is therefore worth choosing such furniture that is characterised by classic design and some kind of universal use. This way, they will serve your child for as long as possible and you will not have to worry about replacing them frequently.
The criteria for a timeless look are met by the exclusive Ines children's furniture, which combines simplicity in terms of design and comes in a neutral colour scheme of grey and white. Attention to the smallest details, a lightweight form and a variety of uses make Ines baby furniture ideal for both toddlers and slightly older children. Although it is extremely classic in terms of form, it is also extremely functional, as any parent who chooses a bed with a couch function – ideal for a toddler and, if the front frame is removed, also for an older child – has surely discovered.
Ines collection of modern children's furniture  
An undoubted advantage of the furniture from Bellamy is that the individual sets consist of a number of products with various functions. Therefore, the Ines children's furniture set is a wide cross-section of furnishings adapted to both infants and older children. The Ines collection features:  
●     cabinets and desks suitable for students who need a comfortable place to do their homework, study or pursue creative hobbies,  
●     chests of one, two or three drawers for storing whatever happens to be in the kid's room – nappies, office supplies, clothes and more,  
●     dresser unit changing tables dedicated to the infants,  
●     bookcases, which, like chests of drawers, can be used to store items currently in use in the kid's room,  
●     wardrobes with different layouts and heights,  
●     toy chests that, when the child grows up, are great for storing board games, painting supplies or souvenirs,  
●     cots with the couch function – first ideal for a toddler and, after removing the front frame, for an older child,  
●     wall shelves on which your child can display whatever they are fascinated with.  
By choosing baby furniture from one collection, you actually gain multiple options. The timeless design of the Ines products enables you to organise the space according to the needs of a growing toddler and to buy additional pieces of equipment if necessary. Choose the versatile and modern Ines furniture set from Bellamy, and you will find out in no time that it was an excellent investment.