Comfort zone at home – can Bellamy furniture be used in the shared space?
2022-05-25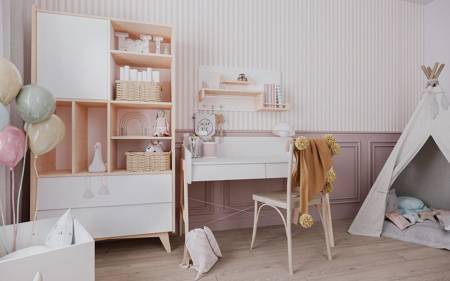 The space in which we live influences our daily comfort, the rhythm of the day and the interaction between household members. The living room is a special place on the map of family life – it is the room that most often encourages common activities with family and friends. How to arrange the living room that is functional, beautiful and friendly for both children and adults? Can Bellamy furniture be used to arrange the area that promotes beingtogether?
A living room that makes you want to spend time with your loved ones
The heart of the living room is, obviously, the relaxation area, which should be arranged with both the needs of adults and the youngest members of the household in mind. It is a no-brainer to equip the living room with a comfortable, stain-resistant corner sofa decorated with colourful cushions, which will accommodate the whole family during a chill-out afternoon. In order to make the room safe for children, it is worth avoiding glass benches and coffee tables with sharp edges, high bookcases which can be easily climbed on by a toddler and visible electrical installations.
Exclusive Bellamy children's furniture will help arrange the living room that is safe for the youngest members of your family. We recommend, for instance, a small table with chairs, ideal for a play area where little ones can create their artistic works under the supervision of their parents, as they relax on the sofa. The furniture is kept in a harmonious, minimalist style, so it can be easily matched to a living room interior
It is hard to imagine living with children without the ubiquitous toys. However, this does not mean that the entire house has to be in chaos. The best way to prevent clutter is with wheelie bins or special decorative toy bags and baskets, which will teach your child to keep things tidy and organise the space around them.
Soft textiles are essential, as they add cosiness and warmth. By going for  cushionsor carpets that are pleasant to touch and provide children with a suitable playing surface to cushion them against potential falls, you can create a unique atmosphere in the room.   These simple solutions from Bellamy will make your living room space friendly for all members of the household, both the youngest and adults.