BELLAMY FURNITURE AND THE MONTESSORI PHILOSOPHY
2022-03-10
Equipment for a child's room in the spirit of Montessori
The curiosity of the world is extremely important in the development of a toddler, so it should be possible for him, while ensuring his full safety. In addition, when arranging a room for a little explorer, one should not forget to create a play zone and develop creativity, which is a place to shape the child's interests - for this purpose, we recommend the Woody set consisting of a chair and a table available in various colors. The combination of safety and the appearance that stimulates the imagination is, among others a cot from the Pinette furniture set with a solid beech wood railing, varnished with a paint that is safe for children - it has been finished with a unique structure in the form of a house, on which you can place elements that support curiosity about the world. Such a crib is a place for both safe sleep and play. On the other hand, a crib from the Nomi collection is a more minimalist solution.
A room that allows free development - what furniture for children is worth choosing?
When arranging a room in accordance with the Montessori philosophy, you should take care not only of safety, but also free access to all furniture and accessories in the toddler's room. This will allow you to discover the world on your own, support its development, and shape a sense of independence. How to make it possible for him? The answer is properly matched furniture. They should provide unlimited access to toys and books. The functional Manhattan and Amsterdam shelves are perfect for this purpose. Their shapes inspired by buildings and a wide range of applications stimulate the child's creativity, while ensuring unlimited access to all their belongings.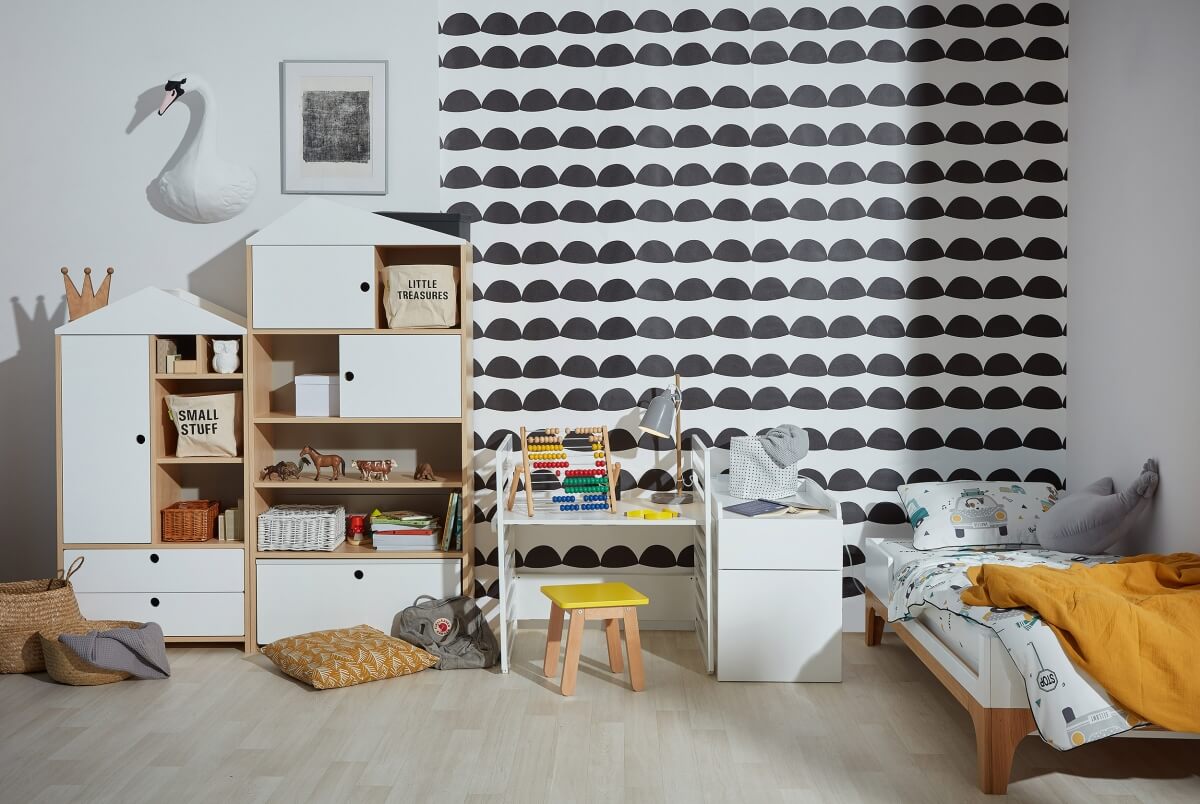 Order and minimalism, that is the Montessori philosophy in practice
However, the right furniture is not everything! According to the Montessori philosophy, there should not be many toys, and preferably natural and high-quality ones. In addition, an important aspect is keeping the room tidy, which will be helpful with packing baskets or boxes. In the case of the latter, it is best to choose a model on wheels, e.g. a box on wheels from the Lotta collection, which additionally stimulates the child's creativity. Check out the full range of furniture and accessories for children from Bellamy and create a room that supports the development of your child today!