Colorful Desks in a Child's Room - Which Colors to Choose?
2023-04-01
Speaking of colors  
Green, reminiscent of a meadow, is the color of nature. It is associated with freshness. A desk in this shade can help a child focus on tasks and calm their senses. Green color can also have a positive impact on the intellectual development of a young student.  
White is also a good choice for a child's room. Similar to blue or green, white has a calming effect and soothes the nerves. It also aids in concentration and communication. It serves as an excellent base for room arrangements, as it doesn't distract and perfectly complements intense colors.
Light browns and beiges, timeless earthy tones, are often chosen for office decor, including children's spaces. They are neutral, offer great arrangement possibilities, and have a calming effect. To add character to the interior, a beige desk can be paired with vibrant accents like orange curtains, yellow pillows, or a blue chair.  
Blue, on the other hand, is recognized as a color of tranquility. It brings calmness and harmony to the space, helping to achieve a state of relaxation. A blue desk is a good solution for children who need support in concentration and relaxation while performing tasks.
Gray is also a popular color for furniture, mainly due to its neutrality and easy compatibility with other room elements. Gray is associated with balance and stability. A desk in this shade can help a child maintain composure and focus their thoughts. However, it's important to note that an excessive amount of gray furniture may evoke feelings of melancholy.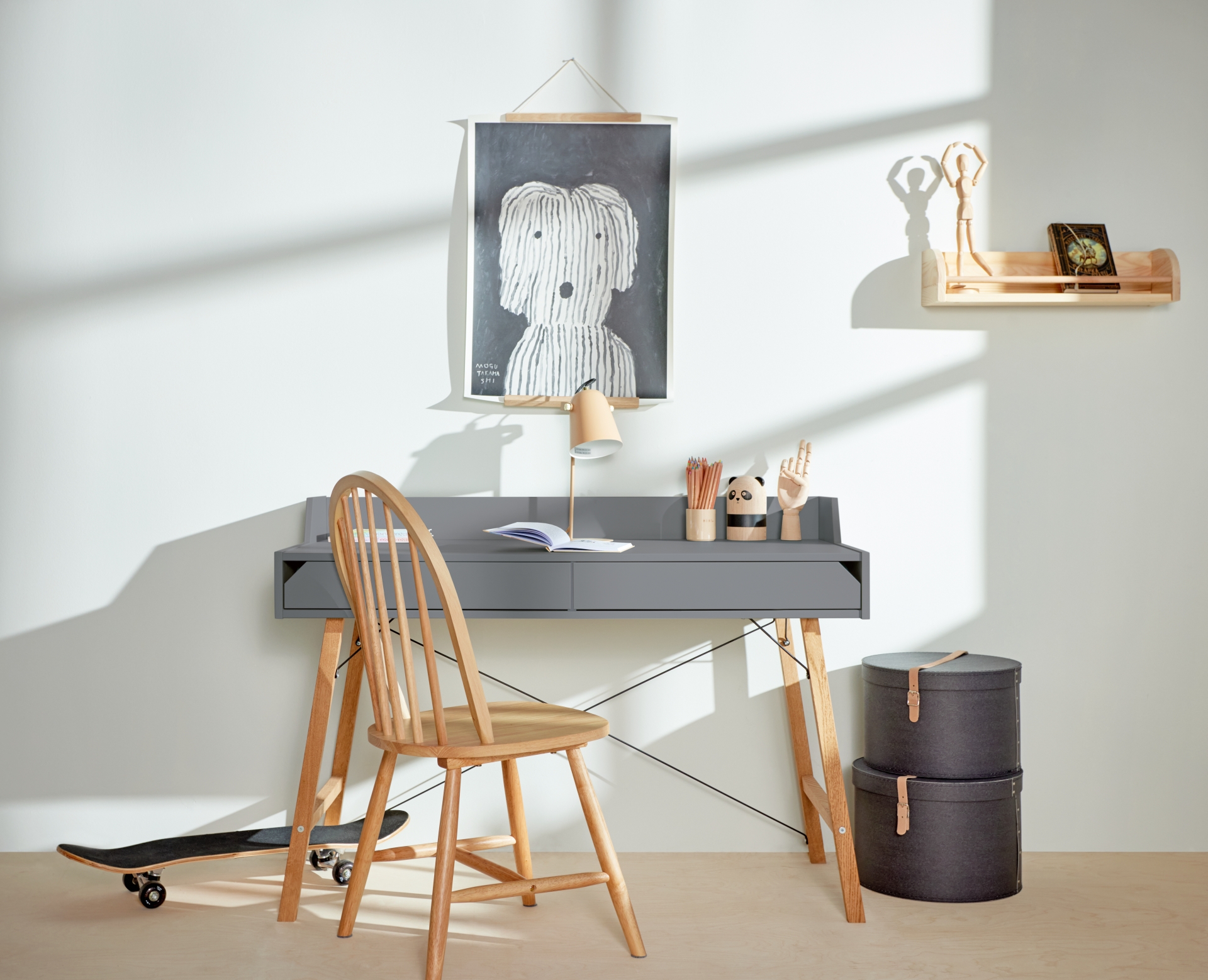 In a child's room, pink furniture can bring a lot of joy to the interior. Elements in this color improve mood, lower stress levels, and symbolize warmth, care, and affection. They are perfect for designing a little girl's room.
Yellow is a color associated with optimism. A desk in this shade will bring joy to the interior, stimulate a child's creativity, and have a positive effect on their mood. However, it's important to remember that an overly intense yellow color can lead to excessive excitability.  
The color scheme of children's room furnishings undoubtedly matters. It's worth choosing colors that positively affect well-being, stimulate creativity, and motivate action. Check out the shades we offer for Bellamy children's furniture and choose something for your child!